For more than 3 decades, Joseph and I (Elisabeth) have been sculpting in clay and exhibiting at west coast, Nevada & Arizona art shows. We have also exhibited in The Netherlands and our work can be found as far as Japan and Australia.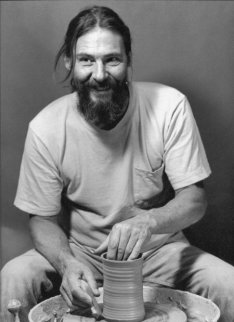 Joseph is the potter, hand forming the vessels. We both sculpt, fire and finish the mugs. We use lead free clays and glazes that they formulate. There are no "jiggering" or "slip casting" production methods used in our work. All pieces are signed originals.
Along with the Celebrity and Custom Mugs, we create many other specialty items, as well as Occupational, Sport, Fantasy and Animal mugs for wholesale and our few retail shows. through out the year. We work primarily together but during the Holiday season we've had production help.
The Process
We begin by hauling a ton of clay to the studio. Joseph wedges a 25lb. bag into even chunks for the wheel. He then proceeds to "throw" 60 +/- cylinders at a sitting. (That's about what the kiln holds!) After slightly drying, handles are added to the cylinders. We retrieve them from damp storage when each sculpture is added.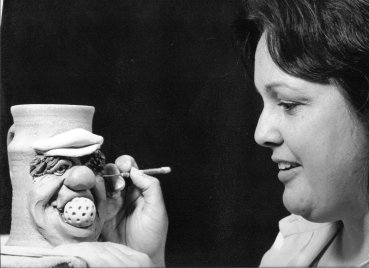 To achieve a variety of colors, we use several clays and have created many colors to add to the sculptures. The work is bisque fired. (That takes a few days) We stain each piece (to achieve that antiqued detail), and glaze them with our own recipes. The work is high fired. (another 2 days) When we unload the kiln, some pieces need an addition of metallic and/or red acrylics to be finished. We don't recommend a dishwasher for these.
Yes, it's a Labor of love, with LABOR being the operative word.